Strasbourg
Just 15 minutes from our hotel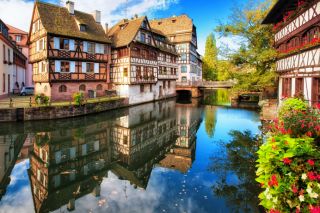 Not far from our hotel lies one of the most atypical French cities, Strasbourg. Is it because of its central location? Or it's pivotal role throughout history? Either way, the capital of Alsace will be sure to impress you.
Along the Ill River, which runs into the Rhine, enjoy a stroll on the banks to the Petite France district. The picturesque collection of half-timbered houses adorned with flowers and a myriad of canals is irresistibly charming.
Head up the island home to the historical centre towards the bustling streets and squares, like place Kléber. It is here you will find the legendary Strasbourg Christmas market founded in 1570 and smell the characteristic cinnamon and gingerbread.
Your excursion to Strasbourg will also take you to the Notre Dame cathedral. Admire centuries of history in front of the grand gothic façade. Each detail counts and the gargoyles will seem to watch down on you as you enter the nave. The more adventurous visitors will climb the 330 steps to reach the platform at 66 metres above the ground. The view from up there is unrivalled.