Brumath
10 minutes from Atolon Park Hotel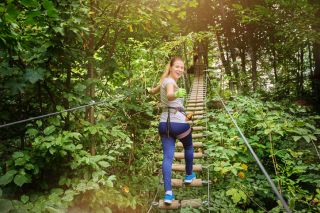 10 kilometres from our hotel is the small town of Brumath, whose historical roots go back 5000 years. Among the landscape of alluvial forests, you will discover the beating heart of the Strasbourg region. Brumath is the home of a business sector that attracts a number of the Rhine region's companies. Our hotel is conveniently located not far from this bustling sector.
Before you head off into the green plains, take a trip back in time at the village's archaeological museum. Here you will find prehistoric, Celtic and Gallo-Roman remains that demonstrate the importance of Brumath throughout history.
Then head off for an exciting trip to the Brumath adventure pack - the largest in the region. It is a great place to enjoy the many activities on offer for young and old. Attractions include flying foxes, canoeing, tree-top adventure, and mini golf. Get closer to Mother Nature for an exhilarating afternoon. You can also enjoy a meal in the restaurant by the lake.