Bernolsheim
Just 15 minutes from the heart of Strasbourg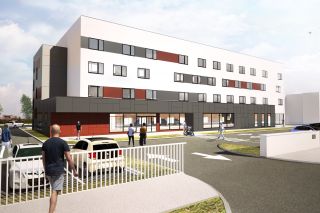 Between the Vosges natural park in the north, and the surrounding region of Strasbourg, lies the little village of Bernolsheim. From our hotel, enjoy a relaxing stay just minutes away from some of the region's major tourist attractions.
Head to Haguenau, a small neighbouring town to discover the charm of Alsace. The town has a rich heritage, with its 19th century Italian theatre, the 16th century Wissembourg gate, and a 15th century chancellery.
15 minutes to the west of the hotel lies the Royal Palace Music-Hall in Kirrwiller, with its rococo décor, where you can enjoy an unforgettable evening just like those in a Parisian music hall.
Just a few minutes from Bernolsheim lie the half-timbered houses, the Petite France district, and everything else the charming town of Strasbourg has to offer. Not far from the bustling street, rue des Hallebardes, lies the magnificent Notre Dame cathedral of Strasbourg. It is a gigantic and delicate marvel, as Victor Hugo would say. Once inside the spectacular nave, climb the steps leading up to the 66 m high platform, alongside the storks. It is the ideal place to enjoy the view of the city while savouring a traditional Alsatian pretzel!